This article has been republished from my column on Examiner.com, with some alterations
Caring for abused cats and kittens is difficult and often frustrating, because these cats are extremely skittish and exhibit defensive behavior. It's easy to interpret this behavior as anti-social and vicious, but the truth is that the cat fears people and is anticipating an attack when people approach her.
Kitty: My own experience in caring for abused cats
I had the honor, and the difficulty, of caring for just such a cat. Kitty came to our home when I was 14 years old, and she was thought to be about a year old. The people from whom we adopted her said that she was vicious, and they couldn't handle her. It turned out that she wasn't vicious, she was defensive.
The most obvious sign of abuse was her tail. At some point, it was broken, and she never got veterinary care for it so it healed badly, at a roughly 90-degree angle, not too far from the base. She had some use of it, could move the tip a little bit, and didn't seem to be in pain from it, so it didn't need to be amputated.
Other signs were not as obvious, but very much there.. She was very, very skittish and timid. She hid all the time. She hid in the bookshelves, up on top of the cabinets in the laundry room, and in closets if she could get inside. She even disappeared for three days; we later discovered that she'd clawed a hole in the thin material on the bottom of the box springs in my father's bed, and was hiding up there.
If you cornered her in any of these places, or anywhere else, she would cower. If you reached for her, and she had nowhere to run, she would lash out. We often had to wear ski gloves or oven mitts when catching her, because she would bite and claw dangerously hard. I have scars from her teeth and claws that I got through the gloves I wore. This was self-defense though; she had no idea what you were about to do to her.
When I moved out at 18, I took Kitty with me, because our other cats beat up on her and she'd never crawled out of her shell. Once she was alone, and had a place to herself where nobody was going to harass her, she really blossomed. There were things I had to be careful about, like making sudden moves near her. I also had to accept that she would never be a lap cat, and that I couldn't just pick her up and cuddle her whenever I wanted to.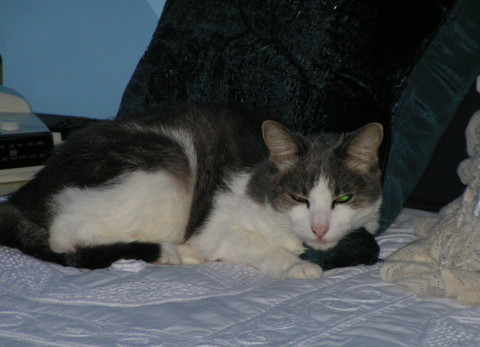 She died in 2006, at the age of 15 years, from congestive heart failure. I like to believe that we gave her as good a life as possible, especially under the circumstances.
Consider these tips when you're caring for abused cats
I learned a lot from caring for Kitty. Here are some tips you can use for caring for abused cats and kittens:
Caring for abused cats requires you to be extremely patient. It will take a lot of time for your cat to learn to love and trust, especially if she has never been treated well before. If she was abused as a kitten, or still is a kitten, she likely believes that all people will hurt her, and will be very afraid for awhile.
Do not use physical punishment when she does something wrong. This is always good advice, but it's especially necessary when caring for abused cats. Remember, these cats have already endured too much physical punishment. This will not help her to learn to trust you, and it will only reinforce her feelings of fear and distrust.
When caring for abused cats, it's important to remember to avoid sudden movements as much as possible. An abused cat tends to interpret sudden movements as a sign that she's about to be hurt. While she may only run, she may also try to scratch and bite in self-defense.
Praise her heavily when she demonstrates appropriate behavior. Cats, like many animals, seek approval from their leaders, and cats tend to see their owners as their leaders. Caring for abused cats means showing approval that will not only help train her, but will also show that you appreciate her efforts to behave appropriately
Respond to her demonstrations of love and affection with the same. Cats show affection in many ways, such as rubbing against legs and rubbing cheeks on fingers and hands. Figure out where she likes to be rubbed and scratched, and pay special attention to these places. If she looks directly into your eyes and blinks, blink back at her. This is another way to let her know that she's loved and cared for.
Keeping these tips in mind will help when caring for abused cats and kittens. These poor animals need to be loved, and need to be made to feel comfortable around people.