This article is republished from my column on Examiner.com, with minor alterations
The issue of whether cats should be kept indoors all the time, or let outside once in awhile, is contentious for many cat owners. For those who prefer keeping their cats indoors, but would like to give them a taste of the outdoors, cat gardens may be the way to go. This could work especially well for people who can't build outdoor enclosures for one reason or another.
What are cat gardens?
Cat gardens can be as small as a window box, or as big as an outdoor planter, depending on the amount of space you have. One cat owner, writing on Cat Channel, said that she used a window box to grow various non-toxic grasses and catnip for her cats. Her advice is to use organic soil, and place the planter where the sun shines until the plants are ready for your cats to enjoy.
Another website, Fully Feline, offers more suggestions as to what to plant in cat gardens. In addition to wheat grass, oat grass, rye grass, and catnip, they list catmint, valerian and lemon balm. They, too, recommend using organic soil so that you can avoid the danger of pesticides.
Fully Feline also suggests lavender and creeping rosemary, but many cats don't like the scents of these plants. In fact, you can actually use these plants outside to keep strays and ferals from using your house and planters as litter boxes. So, before deciding to plant these, buy a small plant or see if you can get some clippings to bring home. That way you can see whether your cats will even like these plants before you plant them.
Fully Feline recommends starting with just two or three plants in the garden, and seeing how your cats take to it. Then you'll know if making more elaborate gardens is worth the effort before you commit.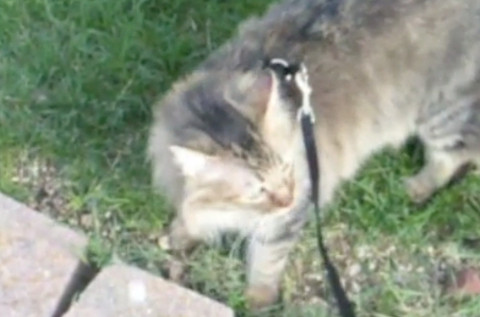 How to attract cats to cat gardens
Getting cats to like cat gardens might require a little bit of work. Fully Feline suggests setting up a scratching post next to it, to imitate a tree growing nearby. You should also put a water source nearby—perhaps a fountain—to further imitate the great outdoors.
Remember, though, that many plants are toxic to your cats. So be careful about what you plant in your cat garden. You want your cats to use this place without your having to be around to supervise. Check out the ASPCA's exhaustive list of toxic plants, so you know what you can plant, and what you should avoid. They also have a list of non-toxic plants.
Also, The Smart Living Network lists parsley and mint as cat-safe plants, and, you've noticed that your cats like flowers, zinnias and marigolds are non-toxic as well.
Finally, not only can cat gardens help enrich your indoor-only cats' lives, but the plants can help keep the air in your house fresher, too! So there are benefits to you and your family, in addition to the benefits to your cats. If you enjoy planting gardens, this could be a great thing for you and your household.