This article is republished from my column on Examiner.com, with minor alterations
It's November, which means, for us in the northern hemisphere, the approach of winter. Taking care of pets means understanding the threats inherent in each season, and winter poses a threat whether your cat is an outdoor cat, an indoor-outdoor cat, or an indoor-only cat. How can you best care for your cats in winter?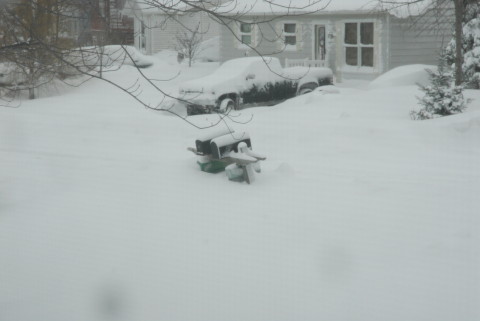 Indoor-outdoor and outdoor cats in winter
While the best way to ensure there's no suffering or danger for cats in winter is to keep them inside, this may not be possible or practical, depending on how you raised them and how easily they gets cabin fever. If you still think your cat should be allowed outside, then make sure she can easily get in and out as she needs to, so she can decide for herself when she needs to get out of the cold.
Shelter
Build her a warm shelter outside, especially if she's a strictly outdoor cat, with a thick layer of straw completely covering the bottom. The Humane Society recommends that shelters also be a few inches off of the ground, and have an opening that's covered loosely with a heavy plastic tarp, or heavy burlap. Make sure the shelter is out of the wind, and that it's big enough for your cat to be able to stand up, turn around and lie down comfortably, but small enough to trap her body heat and keep her warm. Ensuring warmth is as important as keeping fresh food and water available and accessible for cats in winter.
These aren't a substitute for bringing your cat inside, but they're a good emergency backup if, for some reason, your cat finds she can't get inside herself (such as the pet door getting stuck somehow while you're not home). Click here for how to build a simple, but warm, shelter for cats in winter (and for feral cats in your neighborhood, too!).
Keep toxic substances where she can't get to them, and where they can't spill if possible
The Humane Society also says that it's imperative you keep poisons such as antifreeze, windshield wiper fluid, and other chemicals out of reach. Be aware of any spills and clean them up immediately, so you reduce the risk of poisoning your cat this winter.
Salting driveways and walkways isn't the best idea
Those of us living in snow country often find our walkways and driveways frozen, and a lot of people like to put salt down to keep these areas safe. Salts are irritating to pads and mouths, though. Wipe your cat's paws with a damp rag whenever she comes in, to help keep her from ingesting any of it and to keep it from building up on her paws.
You can also use Safe Paw Ice Melt, which is salt free and guaranteed safe for pets and children, and will work well around cats in winter. This is also an all-around eco-friendly way to keep your walkways free of ice this winter.
Finally, knock loudly on the hood of your car before starting it, or better yet, lift the hood and look around, especially if you can't find your cat. In the winter, cats seek out warmth wherever they can find it, and it's especially warm under the hood of a car. You want to be sure you don't have animals in there before you start it, especially if there's a possibility that the animal in there could be your beloved kitty.
Indoor-only cats in winter

You have to be careful with indoor-only cats in winter, too. Indoor-only cats face their own winter dangers, too. According to Petplace, house fires are more common in the winter because of space heaters, wood stoves, electric blankets, and more. Make sure your cat can't get to the dangerous elements of these, and never leave them on when you're not in the room, and certainly when you're not home.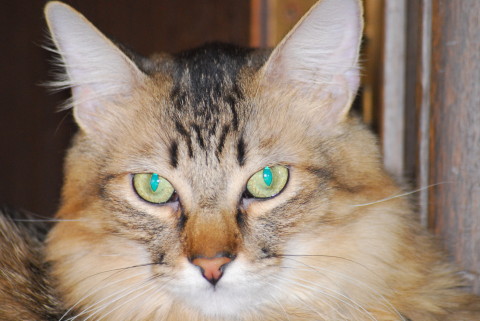 Candles pose a specific threat to cats in winter as well. If you like having candles lit in the winter, be sure that they're either definitely out of reach of your cat, or that they're only lit in rooms where you can supervise. One swish of a tail, careless paw kick, or a startled reaction, can lead to disaster for you, your cat, and your house.
Finally, if you don't service your furnace every year, you should consider getting into that habit. Furnaces can put out carbon monoxide that's deadly to your cat before it's deadly to you. This is a good idea anyway, but if you don't think you're in enough danger of carbon monoxide poisoning to get this done, remember that your cat has a higher potential for it than you do.
Hopefully, these tips will help you keep your cat safe from winter's dangers, regardless of where she spends her time. Being careful, and being aware, are the two most important things you can do for your cat in any season.